No.001 GRANDZEROZ
GrandZEROZ
Primary Car: Nissan Skyline GT-R V-spec II (R32) '94
387HP/354lb-ft/1,330kg/500PP/SH
Secondary Car: Nissan Silvia spec-S Aero (S15) '99
Bio: I'm a rising touge pro, actively progressing towards mastering the art of the GT-R (aiming to be the fastest 500pp CS/SH R32 driver) as well as mastering the art of tuning. I am the owner and founder of Touge HotList, hoping to bring together all of Gran Turismo 6's touge racers, as well as invite those who may have an interest in this genre of racing. I like to stay a good sport and just have fun, ignoring such stressful inconveniences as lap times and league images; I learn at my own pace with my growing experience. I get along with most people, so don't give me a reason to not do so with you. Otherwise, I'm a very flexible and friendly racer. I am also currently teaching a student personally under my wings. Former Team Taka co-leader. Now I run my own team: Team Shinkasei Tougesports.
Main Track: Cape Ring
Team: None
---
Powered by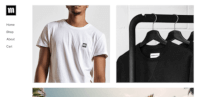 Create your own unique website with customizable templates.